It started here at this corner in the summer of 2008. After 10 years of growth and well over 1,000 happy customers we are looking forward to upgrading our facility in 2019!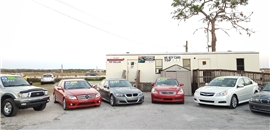 With nearly 20 years experience in the automotive industry our goal is 100% customer satisfaction. We want to be the only trusted source for all of your automotive needs. All of our vehicles are inspected, serviced, and are checked with vehicle history reports through Autocheck. We employ no salespeople so customers are allowed to come and go freely gathering information so they can make a smart purchase to fit their needs.
When it comes to financing we have great relationships with the biggest local credit unions. Whether you have good, bad, or new credit we help educate our clients on the proper strategies of finance. Bad credit isn't a problem either. We have extensive experience with secondary lenders making it easy to get a nicer car than what typically is available through "buy here pay here" style financiers. Stop by anytime, we promise you won't be disappointed!